Made for kids age 4 to 104.
Play a family game as stimulating for adults is it is for children. That's the magic and challenge of "visually connecting."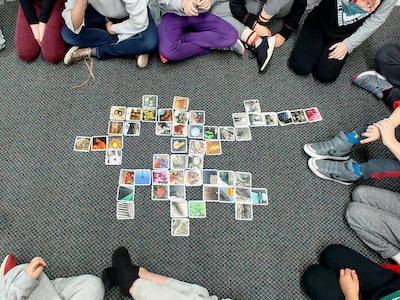 Learn how others see and make connections, and enjoy the ensuing conversation.
Explore the uncompetitive and creative activities from the guidebook on your own.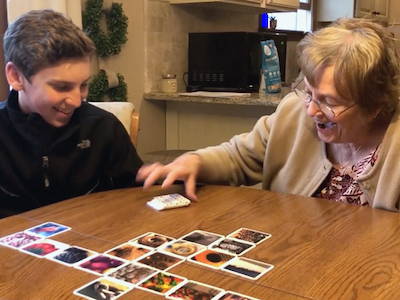 Grandma will find visual connections as fun and engaging as her grandkids.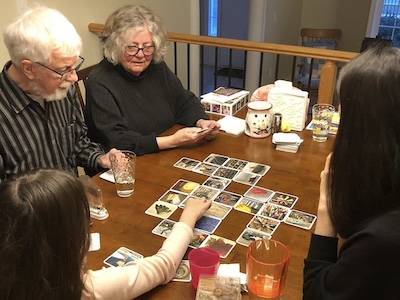 Play with the whole family
OuiSi visual connections will challenge all the wonderful minds at the family table.
What are Visual Connections?

---
Our lush photo cards connect visually with one another, based on similar patterns, shapes, colors - really, anything you can imagine. Thousands of connections are waiting to be found, each providing a wonderful "aha!" moment. That's the magic behind the games and activities you will find inside each box of OuiSi.
---
We are passionate about collaboration, conversation, co-creation and open-ended play. We believe this is time well spent, at any age.
We believe that pictures are a "language" almost all of us speak. OuiSi itself translates into "yes yes" in French and Spanish and pronounced "we see" in English, and is a celebration of this globally-shared visual language.
---
Of course we made OuiSi fun to play, and terrific alternative to screen time. But the beauty of visual connections is that they are also excellent brain exercises that develop and expand young minds, while keeping older brains sharp and creative. And with so many ways of playing OuiSi, you can adapt rules to the particular needs of your family. And, you can expect that the conversations fostered from a game of OuiSi will leave everyone feeling heard and thinking differently.
"This is a beautiful game and a strong cognitive exercise for old and young alike. I also find it quite soothing to play alone."
Kim M.
28 JAN 2021
"I bought one for three grandchildren (3, 4 & 7) and gave another one to my mother (78). Now I need to order another set for me!"
Amy C.
7 JAN 2021
"OuiSi has changed the way we gather for games. EVERYONE, from kiddos to adults, loves OuiSi and all the ways to play it."
Julie S.
8 OCT 2020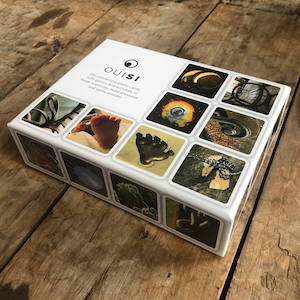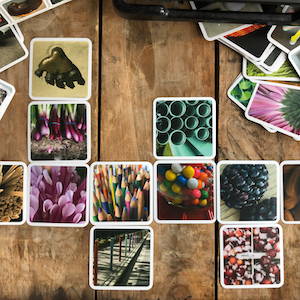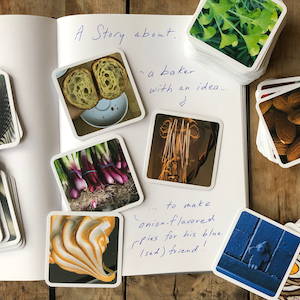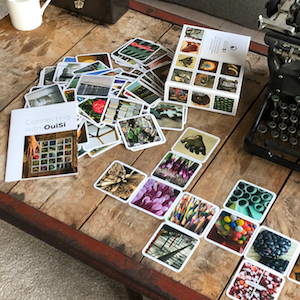 ---
The rules for creative and collaborative activities in this section are not set in stone by design. Make them your own by finding new ways of playing, or use them as building blocks for unconstrained play. While these activities are built for kids as young as 4, they are great creative pursuits for people of all ages!
OuiSinoes (we-see-nose): Make photo-card connections in this engaging take on dominoes! Like a great conversation, everyone wins as each person adds something thoughtful to the board. Find a competitive version of OuiSinoes in the Guide to Competitive Games.
Imaginate: Using a little imagination, each card in the deck looks like something else. It's kind of like finding things when staring at clouds ("that cloud looks like an elephant!"). Check out the three examples below. Find a competitive version of Imaginate in the Guide to Competitive Games.
Trainmaker: Players build a "train" of images one at a time, with each image visually connecting/matching to the one prior. Have fun with the shapes you might make, from circles to spirals to one long line. There are so many connection possibilities that we bet you'll never make the same train twice.
Storybuilder: Choose cards as prompts to craft your next written or verbal adventure. Use the Imaginate activity to come up with ideas from each card. Stories can be created on your own or with friends.
Scavenger: Explore your world for OuiSi connections using the photo cards as prompts. Scavenger is great for mindfulness, photographers and for curious kids!
Eye Spy: a fun take on the game I Spy ("with my little eye") and a great alternative on a road trip.
OuiSi Draw: This activity turns the spark of a photo card into a full- blown drawing. This activity can be played in a number of ways, testing your imagination.
In the OuiSi guide book you will find for two competitive games that demand visual acuity and strategic thinking. We suggest ages 10+ given the competitive nature and the stricter rules of the games, but the concepts are simple enough that younger children can play.
OuiSinoes ("we-see-nose"): In this winner-takes-all version, make photo-card connections (a "match") that wow opponents in the style of dominoes. Find an uncompetitive and collaborative version of OuiSinoes in the Guide to Creative Play.
OuiSi Capture: Work as a team to defeat a common opponent (the discard pile!). A single player attempts to "clue" a selection of cards from a 5x5 board using a SINGLE verbal word (like "stripes" or "rounded"). Correct guesses by the rest of the team increase their collective (winning) pile, while incorrect ones count for the discard (losing) pile. While it sounds easy, it can be deceptively a difficult game as everyone sees things differently. And, we add options for increasing or decreasing difficulty.
Unconstrained play guide (age 4+): OuiSi's unique images and visual connections make excellent ingredients for unconstrained play. Due to its very nature, we don't want to add too many specifics that could limit experimentation. Instead, in our guidebook we offer suggestions to spark imagination and play.
Mindfulness guide (age 4+): Mindfulness doesn't have to be a 30 minute meditation! It can occur in playful, bite-sized moments, and OuiSi has some suggestions for how to make those easy parts of daily life, using the photo cards.